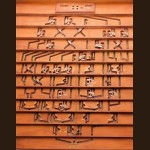 Main Frame (video)
See Leigh Christensen's Artist profile and sculptures Horse Power and Blow Through on the Kura Gallery Website. Kura invites you to step into a world of contemporary Maori and New Zealand art and design.
Main Frame – Sculpture – YouTube – This video describes a dynamic sculpture Main Frame by New Zealand sculptor Leigh Christensen. It implements a logic circuit for addition using ball bearings. As well as showing the sculpture in action there is an outline of how it works.
Orexart, in Auckland, New Zealand, has been exhibiting emerging and established artists from New Zealand, Australia and the Pacific since 1990. It changed it's named from the Oedipus Rex Gallery in 2008. Leigh Christensen's art has frequently been exhibited here.
Artfind.co.nz – The Online Space for original New Zealand Art features Leigh Christensen's sculpture.
Massy University – scroll down for further information on artist Leigh Christensen's sculptures.